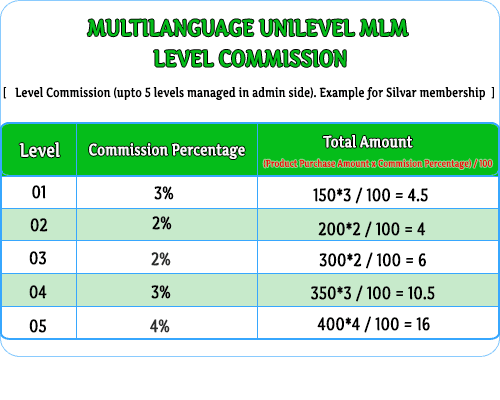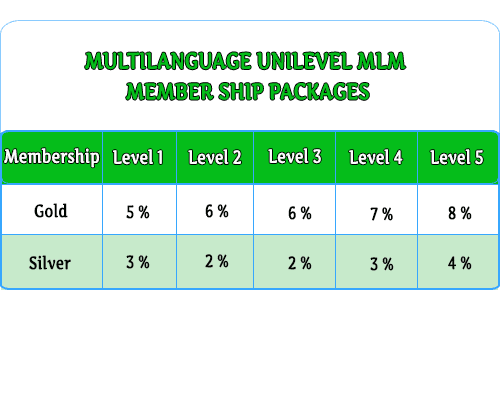 MLM Membership Plan Script allows administrator to create one or more membership plan from admin panel, their membership features like direct and indirect referral commissions and referral limits for each plans and also have the purchase bonus features in this plan. For every purchase member will get the direct and indirect purchase bonus. Membership plan MLM script is product purchase based business; products will list by product category wise at the same time you can buy more than one product.
MLM Membership software has two earnings for referral earnings and purchase earnings. Referral earnings member will withdraw the earnings has cash but the purchase earnings will use at the time of purchase. Each registered user will get their own profile account to maintain their profile information's and earnings.
MLM Software Member Panel Feature
Online MLM Member / Associate Registration
Online Joing System
E-pin and Secure ID systems
Member E-PINs Management
Member Profile and Account
Registration and Billing Receipt
Online Welcome Letter and Welcome Product Kit
Genealogy / Member Tree View
Downline Member details
Binary Income / Leg Income
Incentive Income
Reward Income
Account Summary (Daily , Weekly and Monthly)
E-Wallet Report
Online Bank Transfer Management
Online Internal Fund Transfer Management
Withdraw Balance and Ledger Account Report
Member Wallet Details (Credit & Debit Note)
Member Total turnover Report
Auto Email and Sms Management
Admin Panel Feature For MLM Software
Online MLM Member / Associate Registration
E-pin Generation and Management systems
Generate/Issue E-PIN Report
Used E-pin Report
Manage Member Profile and status
Date Wise Member List
Genealogy / Tree View
Member Joing Report
View Binary / Leg Income
Member A/C Balance and Ledger Report
All Member Account Report
View Direct Income
View Incentive / Reward Income Report
Online Bank Transfer Request Report
Online Internal Fund Transfer Report
Generate Commission / Earning Payrole
Member Turnover Report
Member Account Ledger and Summary
Tax and TDS Management System
Auto Email and SMS Integration
Advanced features:
Multi language support.
Direct and indirect bonus.
Manage minimum fund transfer amount and tax percentage.
Manage minimum withdrawal amount.
Manage membership plan.
Offer management.
Report management.
Enquiry management.
Member management.
Payout management.
Ads management.
User side:
New user Registration

Register using sponsor ID, nominee details, and personal details.

Login setup

Login with either mail id or profile id and valid password.

Profile management:

Dashboard

Visual statistic of purchase value.
Visual statistic of payout calculation.
Visual statistic of users.
Visual statistic of purchase detail.
Numeric statistic of payout.
Numeric statistic of purchase detail.
Statistic of weekly purchase.

View and manage account details.

Direct and indirect bonus amount.
Total received amount.
Total balance amount.
View basic detail.
Nominee details.
Personal details.

Upload profile image.
Edit profile.
Change password.
View genealogy structure.

View level detail.
View sponsor id.
View profile id.
View referral limit and count.
View downline members' detail.

Payout calculation.

View bonus type.
View status.

Send withdrawal request.

Send withdrawal request to admin.
Delete the request detail.
View status of withdrawal.

Cancel withdrawal request.

Cancel the send withdrawal request.

Mailing system.
Membership plan.
Received rewards.
Product management.
Event management.
News management.
Testimonial management.
Newsletter.
Social sharing.
Please check our other MLM Scripts Click here